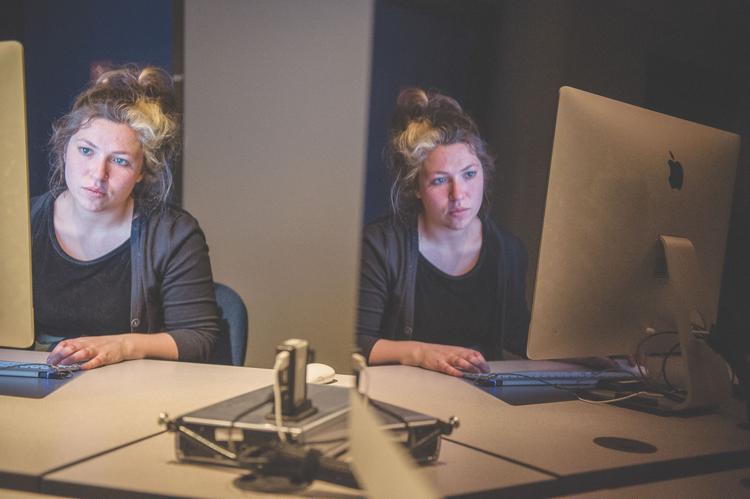 Clara DeWeese's photography exhibit, "Both Sides Now," opens in the SUB's Exit Gallery on Monday, April 9, and she is ready to be done preparing.  "I've been cooped up in the basement for a month," she said with a wan laugh. "The fluorescents get to you after a while."
A graduating senior, DeWeese said the exhibit grew out of an assignment for her Intro to Color class. Deweese started it by photographing her friends, pairing similarly colored back and foregrounds. "My friend, her wardrobe is a work of art. It all started with an orange shirt on an orange background," DeWeese said.
While she moved away from shots of hue-on-hue, her interest stayed on shooting her friends. "I like people," she said. "If you live in Montana, it makes sense to photograph landscapes. I'm presenting what I want around me, and how I find joy."
She stressed, however, that though she was photographing young women, her work is not depicting them as products. "A lot of photography is passive, especially of young women, especially with men behind the camera," she said. "My friends weren't letting me take their picture to be consumed. They're not passive, in any way." DeWeese hopes the exhibit will "force the viewer to consider what they're thinking. It's hard to avoid, it's nerve-wracking." 
That doesn't mean the exhibit is full of cheap shock value, however. DeWeese knows that's been done and would rather do something new than retread old ground. "It's almost too easy to just shock," she said.
Coming to MSU was not a given for DeWeese, and neither was studying photography. She grew up in Portland, where she briefly attended Portland State University, then spent five semesters at Portland Community College studying ceramics. She later moved to Bozeman because of family ties — her uncle is Josh DeWeese, an associate professor of ceramics here at MSU, and her grandparents have had their own art shows on campus.
She shifted her focus to photography two years ago, when she was given a Rolleiflex camera and some film for it. The film was expired, but she still began learning with it. "It was nothing special," she said, "but having access to that let me shoot more freely."
The camera dated to sometime in the 1950s, but it still worked. The Rolleiflex camera's viewfinder is in its top, so photographers traditionally hold it at their waists instead of holding it up as a barrier between themselves and their subject. DeWeese found she enjoyed using the camera more than newer models, as it allowed her a greater sense of intimacy with her subjects.
"My friends are powerful female figures," she said "and that comes through in the exhibit."