As many know, in March of 2019, MSU lost over 60,000 square feet of recreation space when pieces of the roof over the Marga Hosaeus Fitness Center collapsed due to snow accumulation. This sparked a motion to renovate what is left of the gym as well as revamp University Health Partners in a combined initiative proposing a "Wellness Center."
On the evening of Thursday, Feb. 27, the ASMSU Senate voted unanimously, with a count of 19 votes, to establish a ballot initiative that would both reconstruct and renovate the fitness center in a way that would "embrace a holistic approach to student wellbeing by incorporating a new Student Health Center along with new and improved recreation space." The ASMSU Senate supports assessing a Student Wellness Center building fee that would charge future Bobcats $58 per semester for upwards of the next 25 years. In addition to this sum, insurance proceeds from the State of Montana on account of the roof collapse will also go toward the construction of the Wellness Center. The overall estimated cost of the facility is $60 million. This bill will be placed on the ASMSU 2020 General Elections ballot for the current student body to vote on this coming Tuesday, April 14 and Wednesday, April 15. 
"Every student will have the option to vote yes — I want to introduce a $58 per semester fee to students, or no — I do not want to introduce a fee. That fee would go directly toward expanding the gym (likely a recreational] pool, a multi-story climbing wall and more), expanding health services and expanding counseling and psychological services," said Margaret Davies, an ASMSU Senator representing the Norm Asbjornson College of Engineering and a senior in mechanical engineering and sociology. "While I support this expansion and think it's extremely worthwhile for all of the program expansions that it would provide, if students don't want this expansion, or don't feel it's worth the cost, it's up to them to vote this upcoming April 14 and 15."
Since the start of the fall 2019 semester, small-scope design and student input has been the focus for MSU. Students, clubs and campus organizations have been surveyed on their wants and needs for a new Wellness Center. Many students have been vocal about the introduction of a larger climbing wall and an updated aquatic center."There's been a lot of work and effort to get student feedback, and I've seen a real desire for a lot of the elements in this project from the student body," said Taylor Blossom, a senior studying chemical engineering and economics and the ASMSU President.
In addition, the design team of the Wellness Center has been focusing on how to incorporate Student Health services into the space to provide a "holistic wellness model — [focusing on] mental, emotional, nutritional, physical, social, intellectual, and environmental [health]…" In a recent press release, MSU President Waded Cruzado shared that, "Other universities where this integrated model has been adopted report more and better student access to the whole range of health and well-being resources and, in doing so, improved student success."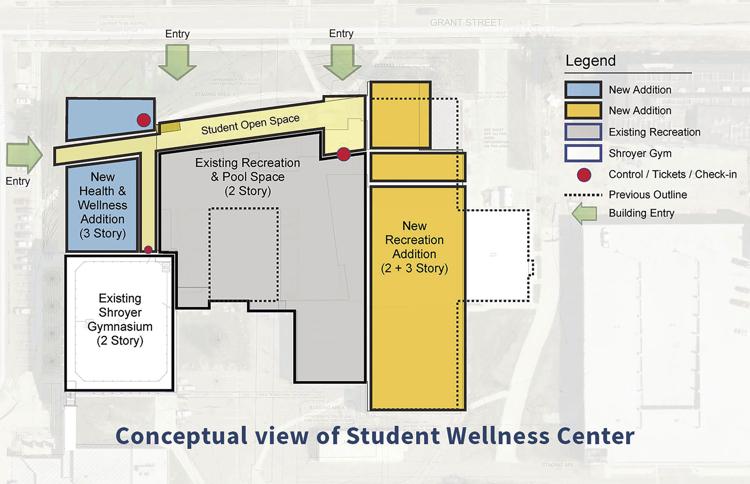 MSU's current Swingle Health Center was constructed in 1957 when enrollment was around 3,500 students. Our student body has increased to over 16,500 students, yet the Health Center has not been expanded since the 1970s. (See Phoebe Zea's article "Bigger, Brighter Spaces for MSU Health" in the Opinion section of the Feb. 27 edition of the Exponent for a breakdown of the costs associated with the design plans and creation of a brand new space for University Health Services.)
MSU is hoping to develop a full design plan for the Wellness Center throughout this spring and summer, but it could take upwards of 12-16 months due to the sheer size and complexity of this project. Once the plans are completed, assuming students pass the Wellness Center bill in April, MSU plans to start the construction process shortly thereafter. Construction is projected to last two to three years. 
"A few members of ASMSU have been more involved in the designing and financial process than I have," said Davies. "Their efforts involved long hours of brainstorming, talking to students, researching other universities health and wellness centers as well as discussing costs at length with Terry Leist, Vice President of Administration and Finance at MSU. All the players in power have made a huge effort to involve students in their decision making, and they did an excellent job. Now it's up to all students to voice their opinion with their vote." 
For more information on the Wellness Center plans, visit www.montana.edu/wellness-center. There you can find a more detailed description of what MSU plans to expand, accompanied by concept designs for many of the spaces. When it comes time for MSU students to make their voices heard regarding this bill, vote in the ASMSU 2020 General Elections online atwww.montana.edu/voteon April 14 and 15.