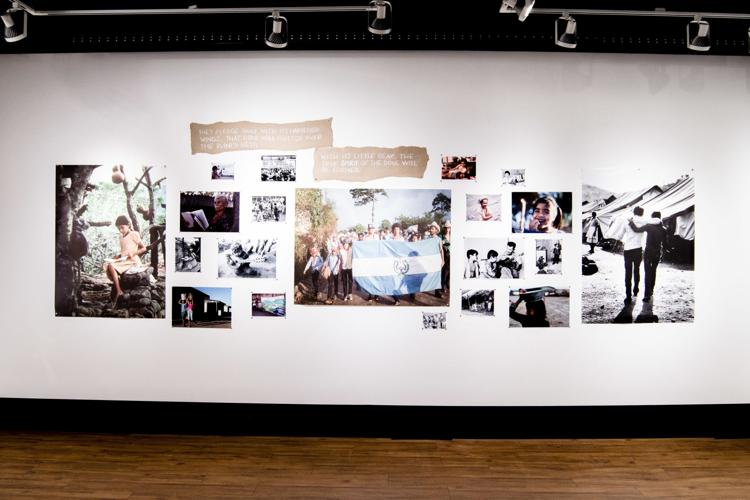 Who is a refugee? The Exit Gallery recently displayed an interpretive answer to this titular question. The Exit Gallery, located in the SUB, is part of ASMSU and the OSE's Arts and Exhibits program. Throughout the year, this program presents the work of MSU students, alumni, faculty, departments and guilds in a multitude of ways for the MSU and Bozeman community to enjoy and learn from.
Recently showcased was the MSU Department of History & Philosophy's interpretation of the 1980s refugee crisis in El Salvador and the parallel to today's Syrian crisis. The flee from El Salvador was in response to the outbreak of a civil war in 1979 leading to unsafe conditions for civilians. Jessica Hays, the current ASMSU and OSE Director of Arts and Exhibits, mentioned that this was a "big collaborative project," combining both the work of students and faculty. Feedback from the community has recognized the exhibit as "very timely." The joint effort was "a good exercise in curation," Hays noted. "Students were engaged in the exhibition and interested in learning how to hang a show."
The exhibit was composed of photographs of Salvadoran refugees, their lives and the camps, as well as drawings and inspiring words from refugees at that time. Quoted in the gallery was the hope for those who stopped by "to encourage cross-cultural critical thought centered on resilience and overcoming what it means to be a 'traditional' refugee in our modern world."
The Exit Gallery showcased this work from March 19 to April 6, and approximately 450 visitors came through during the run of the exhibit. Hays disclosed that 111 people were present on the day of the reception.
In the gallery was a station where passersby were prompted to write down what home meant to them. This handout "boosted interaction," and Hays said this encouraged people to reflect on what it "means to be uprooted" and understand the "resilience in community."
The exhibit currently being presented in the Exit Gallery is MSU student Clara DeWeese's work titled "Both Sides Now." Stop by the gallery located in SUB 212, open Monday through Friday from 10 a.m. to 6 p.m., to check out this latest collection.
Right now, Hays is working on the the Call for Entry, which is the application process for those who want to be a part of next year's exhibitions. "Students, faculty, alumni, department, clubs and fields are all eligible to apply," she said. The application is due by Sunday, April 15, and can be found at montana-mxeon.formstack.com/forms/exit_gallery_app_2018.